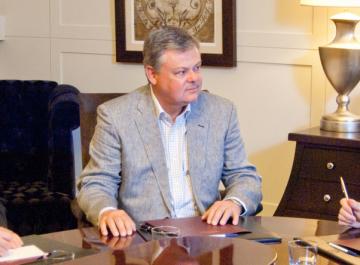 George's extensive career in I.T. placement and recruiting spans more than thirty years. He acquired a Bachelors of Arts and two Masters Degrees from the University of Kansas. He enjoyed a successful career with Robert Half for twelve years. George won many national and international recruiting awards including receiving the "Most Outstanding Office Performance" award three years running.
In 1986, George founded and managed the Waterman Group, which was for many years the largest independently owned I.T. recruiting firm in a four state area. During his career, he managed significant projects with numerous Midwest companies such as DST, DSI, Cerner, Hallmark, Sprint, Garmin,and Yellow Freight. He helped businesses establish themselves in their early growth periods by providing insightful and reliable I.T. recruiting and consulting. George's ability to identify an organization's technical staffing needs, combined with his understanding of their corporate culture, allows him to maintain long term relationships with many companies throughout the United States and abroad. George also has in-depth experience with placement in the AS/400 Manufacturing industry.
In 2006, the Waterman Group evolved into Spectrum Resources. George and fellow Managing Partner, Dan Kilpatrick, utilize their considerable knowledge of the I.T. industry and their well established business relationships, to provide job placement and consulting services in the Midwest.